Category : Articles
Year : 2018
Author : The Pacific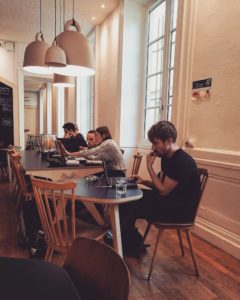 'Working away on a job you love, on an evening, you are aware of your surroundings and the sounds that emerging from the outside. You hum your favorite song playing inside. It's a big evening for a few people on the other side, as they happily chatter about their daily lives and celebrating the moments of youth. A man right in front of you, his eyes glued on his book, maybe studying? A few people on the corner are discussing about their new strategy for scaling up the business. In a world of your own, customers come and go in a flurry, like a time-lapse video, as you work for your next gig peacefully, aware of your surroundings yet unperturbed, as you sip the hot coffee you ordered.'
With the ticket sales of 2.33 lakh, Dombivli took the crown as Central Railway's busiest railway station in 2015. Dombivli being chosen for 'Smart City,' Dombivli suddenly became a newer attraction for people who chose to drift away from the nuclei, filled with noise and traffic.
These events invite a whole lot of possibilities. But one thing which hasn't changed much since a decade. The 7th largest city in Maharashtra lacks in 'Hangout Places'.

"To rephrase this, the places required for active engagement of people, to participate in activities, study, working or hanging out, in Dombivli, are surprisingly less and not easily accessible."
To put things in perspective, Thane City itself has 10 malls, leaving aside host of high-end restaurants and eateries available. In this case, the word 'Mall' is used in the context of 'Hangout Places,' 'Hangout Lounges' or 'Social Spots.'
Despite leeward movement overall, Dombivlikars have to move towards Thane or further for recreation. This indicates the dire need of quality spaces for socializing, which are easily accessible, people friendly and happening.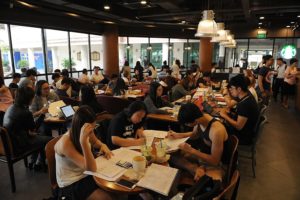 Retail food chain restaurants like McDonalds and Starbucks have a freelancer friendly policy in their premises, with free Wi-Fi, a prevalent practice internationally; only condition being they should order food and beverages. Organisations like WeWork have opened up 'office spaces' with all provisions, set exclusively for professionals.
Hard Rock Cafe Mumbai, first in India, opened up a resto-bar with an addition of 2 live venues. This encouraged the people to visit the hip and happening place, simultaneously giving stage to talented musicians from all around. Tamasha restaurant on the other hand, plays with the cuisine and creates exciting new dishes, which goes well with the retro ambiance that the interiors impart, keeping in well with the theme of glamour and Bollywood.
Social Offline is one of the most successful chains that have managed to create such a combination of spaces. Riyaaz Amlani, Director of Impresario Handmade Restaurants, got inspired due to a conversation with his friend, decided to 'bottle up' the experience of a time well spent and sell it. Social provides the spaces for youth and people to be social, work and play under one roof.
"By doing this, these chains achieve a wide range of users under one roof, giving them a place they belong, which in turn, runs their business."
The experience of 'Hangout Spaces' is such that people will spend their valuable time in that place. There is an inherent need to be involved in the space once inhabits in that moment, along with the company they have. These spaces give them their much needed escape, joy and privacy from their normal lives. Therefore, it becomes important that the space compliments their experience, be it happy moments, laidback idling or much needed solitude. These spaces support freelancers, students, CEOs and patrons alike; cloaked with a wall of security, yet open to their environment and free to breathe in, work at peace.
"Things have been changing in Dombivli ever since, albeit in a slow pace."
The experience of 'Hangout Spaces' experience is scattered unevenly in Dombivli, as of now. There is a strong need to capture the essence of being in motion along with life, as one wishes to socialise as often, at places nearby or easily accessible. Dombivli has lots of possibilities when it comes to creating spaces where people can gather with their friends, showcase their talents, choose their poison and unwind. Dombivlikars do deserve places like Social Offline, Starbucks, Hard Rock Cafe or Zaffran.
Lack of such spaces opens up a great opportunity in developing such collaborative environments. It may necessarily not be a huge malls or a restaurant, but it certainly has to be flexible in its functionality, amenities, should be approachable and accessible. A city is not lively at all, if it fails in gathering people together at all times whenever they require. It is not a city if the only time and place the people will gather is only during festivals.
Citation (Top to Bottom)
Photograph Courtesy (Top to Bottom)